U-19 International Rugby Torunament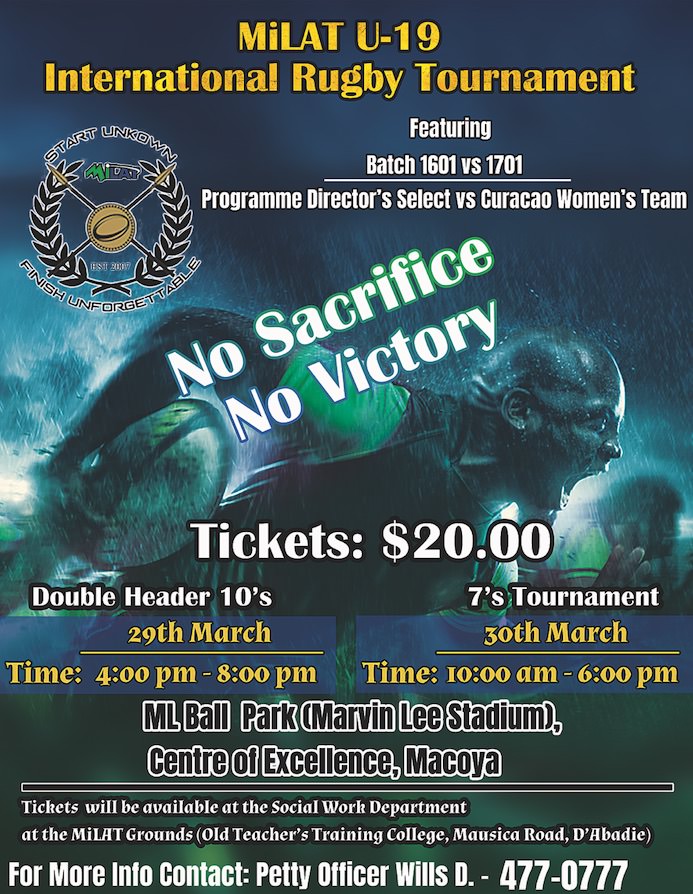 MiLAT is having its first ever Under-19 Rugby 10's/7's Tournament (details on the flyer) aimed at enhancing the sporting spirit and networking among the sporting discipline of Rugby, for the Cadets.
On Day 1 of the two day tournament (29th March), there will be a double header match featuring a clash between the past and present in the form of Batch 1601 playing against Batch 1701 in Game 1. In Game 2, we will be featuring a memorable match between our first ever Programme Director's Select (P.D.S) – a compilation of local female ruggers and the feisty Curacao Under-19 Female Team; whom have accepted our invitation to be a part of this path paving weekend.
On Day 2 (30th March), we will be hosting our first ever Under-19 7's Tournament. We have invited three (3) local male teams and two (2) local female teams to join the MiLAT Jauggernauts, P.D.S and Curacao Women's Team on this whole day event.